It is beautiful

Hold on, the best has yet to come! The accessories are the real luxury of this collector's item. Indy comes with a real leather whip, unfortunately it is slightly out of scale. But it is made "by braiding a lash out of skinned horse leather, only 0.5 mm thin". There may be a small scale problem, especially with the grip of the whip, but one cannot help admiring the craftsmanship.

The fedora and the boots are made of some kind of vinyl. Even so they are excellent reproduction of Indy's hat (people owning the Kenner doll know what I am talking about) and boots.

The gun is made of metal with a cocking hammer and spinning cylinder. I know that Indy uses several different guns during "Raiders", the one reproduced here is the "Smith & Wesson M-1917 caliber 45 pistol". The gas mask bag is also perfect with its leather strap. And finally Indy comes with knitted socks (underwear fitted for adventuring around the world), a sand bag and the unforgettable golden idol.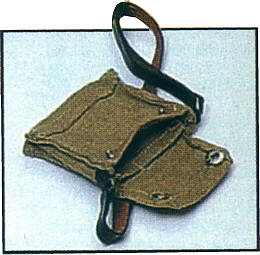 The only drawback I could find about this Indy collector item is that there have been made only 3000 of them. A plea to the people from Toys Mc Coy, if you are reading this, consider reissuing at least 3000 more Indy dolls because you won't have to bury them in the sand for a thousand years before they becomes priceless.
« back to page 3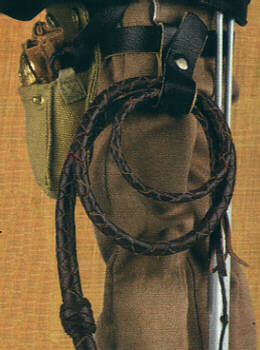 picture above:
The whip is a masterpiece itself. only the handle is slightly to large for the figure. You can also see the support that hold Indy when placing the figure in a show-case.

picture to the left:
The satchel is rigorously identical, even scale is right. The thin strap is made of leather and the fabric looks like the the original material.

picture below:
Even if it is made of vinyl, the fedora looks like the original.
Picture by Pierre Pittiloni used with permission from Dixième Planete.