The man with the hat is back!

There is not much to say about the body of the doll except that you have two sets of hands, which allow Indy to hold all the accessories. The work done on the face is incredible; it looks exactly like Harrison Ford playing Indy. The accuracy of the details is dead on, from the scar on the chin to the eyebrows; even the haircut is a perfect match.

The same can be said of the clothing. Indy comes with a real leather jacket with a pocket in the left inner lining, "hand warmer" pockets and "action pleats" on the back of the jacket. The shirt and the pants are made with the same concern for details i.e.: real pockets, one functional buttonhole at the top of the shirt.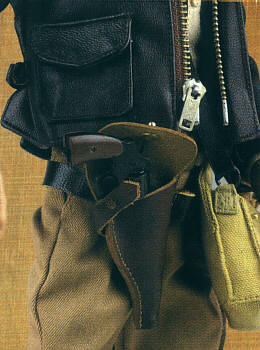 You can throw away your hold Kenner doll (maybe not, considering the price it can fetch on Ebay). One has to take this action figure out of the box to really enjoy it; it would a shame not to do so.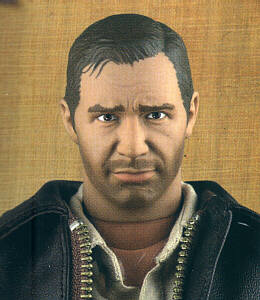 picture above:
It is really Indy! Look at the details in the face.

picture to the left:
Genuine leather holster for the Smith & Wesson gun.

picture below:
Nothing is forgotten, not even the inside pocket of the jacket!
Picture by Pierre Pittiloni used with permission from Dixième Planete.