London has so many great places to offer that I would not dare to start a list here. Just get a map with a tourist guide and you will be fine. I just want to name two fine places for low budget hobby archaeologists.

A must see ist the original British Museum. It's huge, filled with great archaeology finds from all across the world and it is admission free. The most prominent exhibitions are the Egyptian collection and the Greek collection but there are also Asian, African and South American collections.

No matter if you simply want to browse around or if you are trying to get an inspiration for your own adventure fiction, this is the place to go. You can even see major artifacts like the Stone of Rosetta - and give it a try to decrypt it :)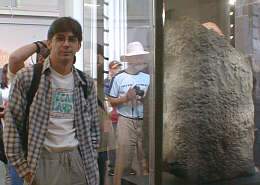 Me next to the backside of the Stone of Rosetta - the front side is a little crowded most of the time.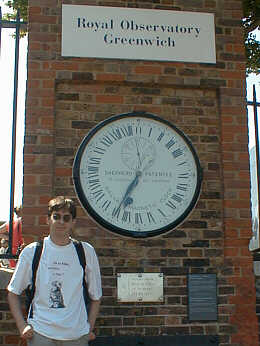 The world time clock in Greenwich.
Another place worth a visit is Greenwich. Now this my not be an actual archaeologic site but as time and the movement of celestial objects are likely used in adventure fiction, this place is fun to go. Greenwich can be reached with the tube. There is an admission fee for the Planetarium but it is also fine to just visit the hill for free.

While in Greenwich we also visited the Cutty Sark which can be found in a 10 minutes walk distance. The Cutty Sark was once the worlds fastest Tea-Skipper and now can be found in a dry-dock.