I can only encourage everyone to visit the Wested shop, it's worth it. They take your exact measures and tailor you a jacket that fits better than any possible mail order in only 8 days. E.g. my jacket is a size 42 enlarged with an extra inch at the chest. Sleeve length and jacket length have also been adjusted especially for me. One cannot come up with exact values like that when doing a mail order.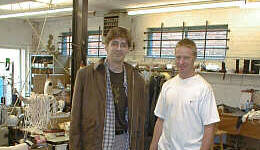 Jerry with me in the room where all the fine jackets are tailored.
Now some news for Wested fans who already have one or more jackets: The lining is now available in satin (silk) or cloth - the original jacket had a cloth lining but the satin feels much better. The jackets now come with a new zipper because the one former one is no longer produced. The new zippers seem to look closer to the original zipper. Till the old zippers are used up, one can choose which one will be used for the jacket.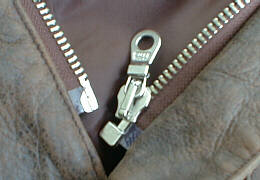 The new zipper that looks more like the original one in my opinion.
The original jacket had only one inside pocket on the left side. Now you can choose between one or two pockets with or without a zipper! And of course one can always choose to let them pre-aged the jacket. All these modifications are free, you only pay the regular price!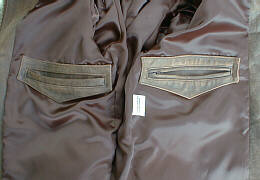 Two pockets, one with a zipper (right) and the other without one. Not the original jacket but I like it to have a lot of pockets. Also see the smooth satin lining.
You can see my choice on the pictures. It may not been 100% original but I plan to wear it for a long time so I choose quality above originality. When you are visiting Wested, say hello to Peter Botwright and Jerry. They both know Indy fans very well, have a lot of stories to tell and you will for sure get the grand tour through the shop :)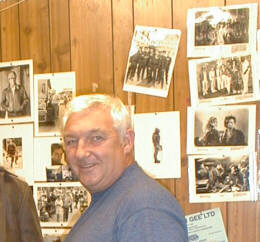 Pete Botwright in front of the famous wall in his office. You can see photos from a lot of movies featuring Pete's jackets. E.g. Bond (left from Pete's face) or Aliens (Ripley and Newt on the right side).
A last note for low budget fans who want to visit London and the Wested store (hotels are very expensive in London). Contact Pete (store addresses is on the first page), he can get you a favorable lodging (so you have more money left for his jackets :-)