A good place to look out for are movie shops. There are a lot of those in town, you will find one near every popular place. Browsing through these shops I found several glossy photos from Raiders and a Raiders movie poster that I have not had before.

Another place to check out is the Forbidden Planet (New Oxford Street), a large comics and Film store. They have a decent selection of books and a nice comic collection too. Plus your are only a short walk from the largest book stores in London.

When visiting the Forbidden Planet store look on their board for announcements for comic fairs. There are two regular fairs, one each month it seems. We got lucky and attended one fair while we where in town. Admission was free and they had about 180 desks full of comics and movie related stuff!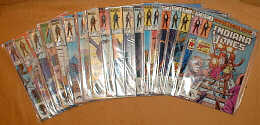 My Further Adventures findings.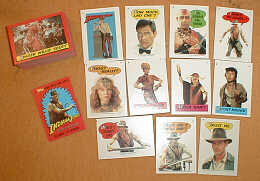 A Temple of Doom trading card set in good condition.
My lucky finds included a complete Temple of Doom Trading Cards set (very good condition), a bunch of Young Indy comics and half a set of Indiana Jones Further Adventures. Try to visit a fair when you are in London, it is worth it.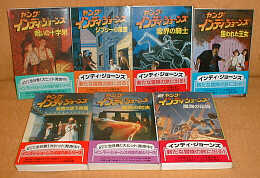 Also available in London: Japanese Young Indy books for those who collect everything. But then again I might be the only one who buys those ;-)