England, 2001 - This years adventurous travels lead us to well known capital of Great Britain. We have been there before so we mostly skip the tourist part and headed for the real treasure. My primary goal was to get one of the most loved pieces of Indy gear available: A Wested Raiders Jacket. A lot of side quests for other artifacts filled the rest of our time there, we where most likely to be found in all kinds of book stores, movie stuff shops and similar places.

To get the "real" jacket, we headed to the place where it all began: The Wested Leather Co. store in Enfield. In this small store in the suburbia of London, all the jackets used for the Indiana Jones films have been tailored. Beside that the also did famous wear like the Ripley Jacket from Aliens and other wonderful pieces.

Peter Botwright, the owner of the shop, made the original jacket for Harrison Ford. The jackets you can buy there are tailored from the original patterns and come with an autographed Wested certificate of authenticity.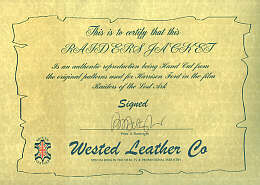 The certificate signed by Peter Botwright.
The jackets can be mail-ordered or you can go there yourself and get a jacket to tailor - for the same price! Just one comment about the price: 140 British Pounds for a customized jacket is actually a bargain, you can pay more for one of the shelf in other shops.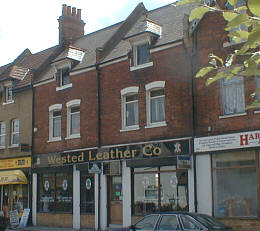 Wested Leather Co.

333/5 Ordnance Road
Enfield. Middlesex.
England. EN3 6HE
phone: 0044/1992-762946
fax: 0044/1992-700476
open 9.30 to 17.30, Mon - Sat
It is rather easy to get to Wested shop when you are in London. Just go to Liverpool train station with the tub. There you switch for a train to Enfield lock. Get a return ticket, you will need it (plus they are very cheap).

Now all you have to do is hop on the right train. This does sound easy but can be tricky sometimes as there are a lot of trains starting at the same route but either changing the route at some point or simply not stopping in Enfield Lock. If you get the right train it's a less than half our ride there.

After leaving the station turn right, you are already on the correct road: Ordnance Road. Just walk for about 2 minutes and you are there at no. 333/5. Just don't wonder if the door is closed, it seems to be closed all the time. Just ring the bell, they are all in the back room tailoring fine leather jackets.