When you are in Singapore you will sooner or later hear about Sentosa Island, an entertainment park next to the Singapore mainland. You can go there with a ferry, with a cable car (very nice) or simply using a bus (a bargain). Do not use the hotel transfers, you pay four times the bus fair. On the island you have to pay an entrance fee for each main attraction you want to use, but there are also a lot of great things you can do for free.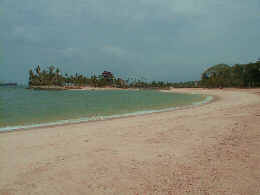 The Southern End of Asia is the beginning of a great beach
The Southern End of Asia...
Definitely worth a visit (and free) is the southern most point of the Asian continent. It's another tiny island connected to Sentosa Island with a rope bridge. Better leave the machete at home ;-)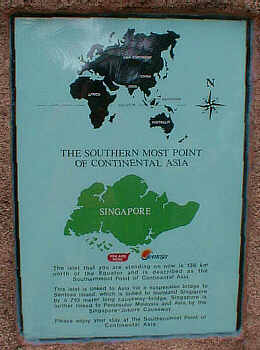 No X marks the spot - but thers's a red spot if you look closely.
Or do you dare "Diving with the Sharks"? In the Sentosa Underwater World you can try it out yourself. They really let tourists dive into the shark pool! If you like it a little dryer you can still enjoy the visitor tunnel through the aquarium.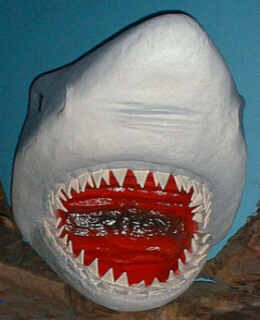 I was a little unsure about the diving thingy...
Another trip for free is the Jungle Path trough the central jungle area on the island. Nothing faked, just a walk trough the real thing in a hot and humid setting. This may not be interesting if you live next to the Equator but it's the pure Indy feeling if you come from somewhere else.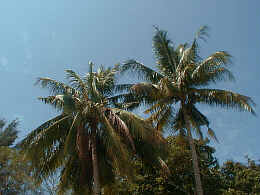 A very uncomplete list of other attractions on Sentosa Island includes Fort Siloso, the Surrender Chambers, the Maritime Museum, Coralarium, Insect Kingdom Museum, Butterfly Park, Images of Singapore Museum and Pioneers of Singapore.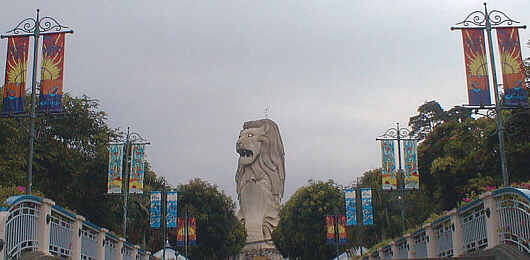 The famous Sealion, the emblem of Singapore. The statue is also a look-out, the visitors platform is in the mouth of the Sealion. Once in a while the eyes of the Sealion light up.