September 1st 2000 - "Oh, Asia" was my first thought when I saw a glimpse of India through the 747's window. Still hours to fly till our destination, the small but beautiful Singapore. I was a little nervous because it was our first time in Asia, my girlfriend and me had only been in Europe and America before. Everything seemed perfectly fine until lunch was served and we met the air pockets over the Indian Ocean.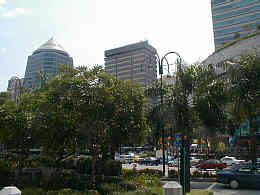 Singapore is a very modern city
Well, I survived (even so I thought my stomach won't make it) and we arrived at Singapore airport. Now what do most people know about Singapore? It's supposed to be clean, hot and humid - but people barely knew anything else. Singapore has a latitude of one degree north, near to the Equator. It is indeed very humid (over 90% humidity most of the time) but because of that it is often clouded. The clouds keep the tropical heat away, we had about 28°C (82°F) during days and 24°C (75°F) during nights. The temperature feels hotter to most tourists because it is harder to sweat with 90% humidity.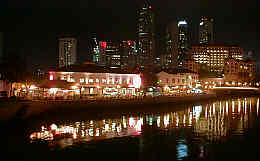 Boat Quay at night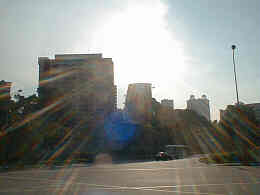 Bright lights, big city
Singapore is for sure one of the cleanest places in the world I have ever seen. Do not even try to import chewing gum, it is prohibited. Other things like eating or drinking in the public are also fined with high penalties, which is a little strange because the people are very friendly and heart warming. It's just that they have very strict rules.

I am not going to write much about the typical tourist stuff, I am sure there is no way to avoid Orchard Road, Clark Quay, Boat Quay and all the tourist places when you are a visitor in Singapore. To me one of the first places Indy would visit was Chinatown - so this was the place to go on the first evening in town. Chinatown is easy to recognize: A little dirtier, darker and more lively than the rest of Singapore. This would even be a good place for Belloq to sell some stolen artifacts :)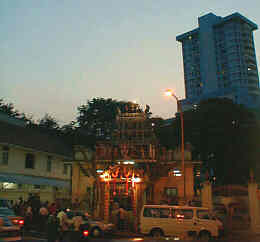 Chinatown is full of adventures