Spain - The Spanish company Andrea Miniatures did it again: They created a new Indy figure but you will probably never hear about it because they do not seem to own official licenses to do so.

The company offers a lot of metal figures inspired by films and books but none of it under it's official name. So far their most prominent figure for Indiana Jones fans was the "1930's Adventurer". The figure can be bough pre-painted and is one of the best Indy figures available.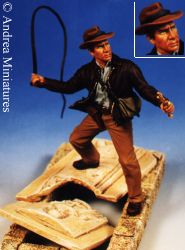 A well known 1930's adventurer, size 54 mm. One of these figures was a prize for last years IJC.at Treasure Hunt.
Small heads

Earlier this year they added another Indy piece to their collection that was so small, I did not even mention it: The movie heads. They made different sets each with 4 tiny white metal casting heads - about 5 mm large - of prominent movie figures. I bought the pack with Indy (set SGA18, also includes the Terminator, Conan and the Highlander) but you do not really need to have those.

Latest news



The latest newsletter from Andrea Miniatures (September) made my heart beat faster. One of their new product is a modeling manual that features a great new Indy & Dad with motorcycle metal model on it's cover and detail picture inside.

The description of the books reads as follows: A superb 40-page softback publication in full Colour. With more than 220 pictures in five chapters, the book shows in clear easy steps the different techniques to convert and to model figures.
Basic and advanced techniques
Anatomy, proportion, volume and detail
Materials and tools
Conversion of figures
Building a mannequin
Modeling portraits

The motorcycle


I have not yet been able to order the new figure, they may not be available yet. But: The newsletter also features the German Motorcycle BMW R75 which looks like the bike used in the Indy & Dad set. There seem to be small differences and coloring differences in the model show but these may be only due to choices of the person who built the model.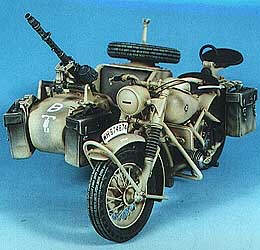 German Motorcycle BMW R75, size 90 mm
Ordering & Pricing
All these models are available from Andrea Miniatures. The given prices are only valid for Europan customers (VAT not included)
SG-F27 1930's Adventurer .. Euro 13,22 (painted: Euro 88,05)
SGA18 Set of 4 movie heads .. Euro ~ 5,0
AP-005 A Series of Modelling Manuals:
Conversion and Scratch Building .. Euro 13,0 (+ 7.21 shipping)
S8-A17 German Motorcycle BMW R75 .. Euro 139,43 (+ 16.71 shipping)
Indy & Dad with motorcycle .. not yet available
sas