Back in 1999 I decided to make a Fate of Atlantis soundtrack of my own, because it is my favorite Indiana Jones game. I realized that I could do it after discovering a website called Highland Productions, which specializes in LucasArts MIDIs. First I selected the songs that I thought followed the storylines of both the game AND the graphic novelization. Then I ordered them chronologically on a 3½" diskette.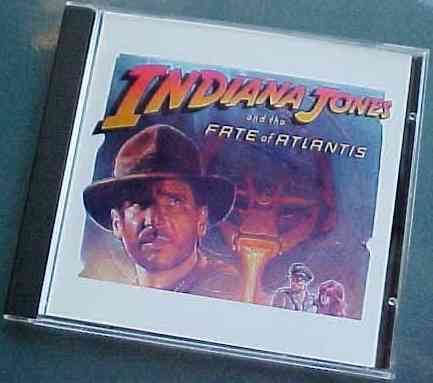 The finished jewel case.
I set that on the shelf while I worked on the jewel case insert artwork, which I created using my Fate of Atlantis poster, which is the size of a huge theater poster. Using a Sony Mavica digital camera, I framed the poster on a slanted board and lit the large image from above and below, illuminating the artwork and bringing out the detail. I spent the greater portion of a night photographing it to best capture the portrait.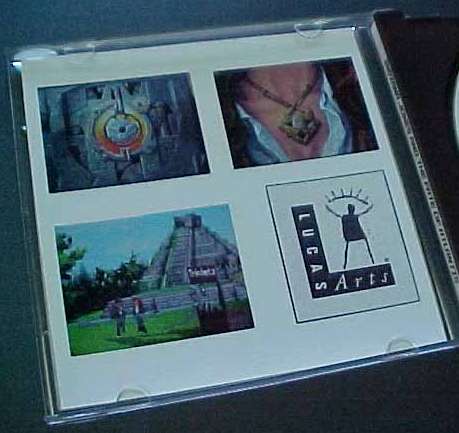 The inside cover with game screenshots.


The Last Crusade is not over yet:

The Gazette's Quest for the "Belly of the Steel Beast":
Is there a way, besides the film itself, to obtain the complete version of "Belly of the Steel Beast"? The original soundtrack chopped out the entire middle of the song (the best part)! Please report any info to
IJC.at
!

Then I selected the final image and ran it through a photo shop, where I took out the edge background color. I decided in advance that I wanted to base the look of the jewel case on the DCC Raiders soundtrack. I realize that anybody can make the CD, but the jewel case is strictly my own creation. I printed it in high definition ink on Kodak high-gloss photo paper. It was very unconventional to make, because I had to cut the cardstock and tape it on another sheet of paper and move it around to where all of the text was, which involved many "trial prints" on regular paper to make sure that I had everything lined up right. It was an extremely primitive method of image editing, but it only had to work once!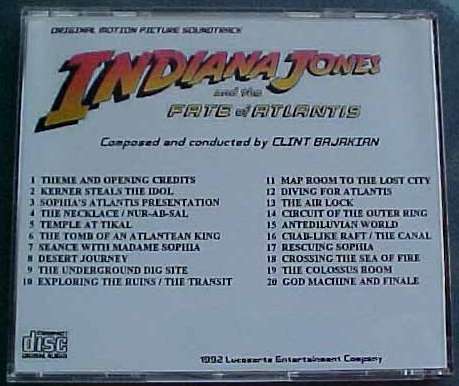 The track list (click to enlarge).
I then separated the Indiana Jones logo from the artwork one pixel at a time- a laborious process. This logo is the one that I used on the back of the jewel case. I took some additional screenshots from the game itself to be used on the inside cover, along with a large LucasArts logo. I retitled some of the songs because most of the Highland Productions titles weren't that original.
Dale Dassel | sas