U.K. - The British movie magazine Empire seems to like Indy very much: Their latest publication is the Collector's Edition: "The Greatest Action Movies Ever".



"Guns, fists, car chases, explosions and sweaty vests. All these things, and many more, have a role to play in a great action movie. In celebration of cinema's most kick-ass genre, Empire has created another of its famous collector's editions.

The Greatest Action Movies Ever is the definitive guide to the 50 best films in the field. It's got Westerns, Thrillers, Superhero movies and a great big monkey.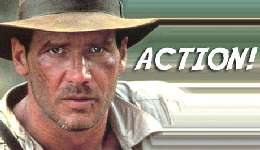 From men with whips (Indiana Jones) to men in vests (John McClane in Die Hard), from Hong Kong to Hollywood, all the most outstanding action movies are included within its pages."

The Greatest Action Movies Ever costs £4.99 and is on sale in newsagents now or check out the Empire online.
sas | Empire online