California - Expect Indiana Jones to open the Emperor's Tomb in late February. The release dates are:

US (LucasArts) release dates:
PC/Windows

February 19, 2003

Xbox

February 21, 2003

PlayStation2

March 28, 2003

UK (Activision) release dates:

PC, Xbox, PS2

March 28, 2003

Germany (ElectronicArts) release dates:

Xbox

February 14, 2003

PC, PS2

not yet available

Xbox: "must-have title of 2003"
Official Xbox Magazine called Indiana Jones and the Emperor's Tomb"the first must-have title of 2003." Want to see if this is true? "You'll have a chance to punch, whip, and kick your way through the jungles of Ceylon as legendary adventurer and daring archeologist Indiana Jones." Look for the demo on the March cover mount disc of Official Xbox Magazine, and in the coming months at Xbox kiosks in retail stores. It also will be a part of a Xbox Exhibition sampler disc sold in retail locations.

PS2: Screenshot Debut


The official site now features the first screenshots from the PlayStation 2 version of Indiana Jones and the Emperor's Tomb in a new gallery. The graphical quality is indeed astonishing.

PC: System Requirements
The official site listed the system requirements for the PC version of the game.

| | |
| --- | --- |
| Operating System: | Windows 98, ME, Windows 2000, and XP |
| Computer: | 100% DirectX compatible computer required |
| CPU: | Pentium III 733Mhz or better required |
| Memory: | 128 MB RAM required |
| Graphics Card: | GeForce 1 video card or better required |
| Sound Card: | DirectX compatible sound card required |
| CD-ROM: | Quad Speed IDE or SCSI CD-ROM drive required |
| Input Device: | 100% Direct Input compatible keyboard or mouse required |
| DirectX: | Requires DirectX 8.1 or higher required |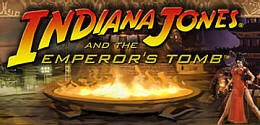 Pre-order and get a gift!


Pre-order Indiana Jones and the Emperor's Tomb for PC/Windows ($39.95) or Xbox ($49.95) from the LucasArts Company Store and receive a light up "spiral" pen featuring the game logo and illuminates for writing in dark places. Get also free shipping and handling for US delivery.

More Indy goods available
Ever wonder what to wear while guiding Indy around the globe in search of precious antiquities? The LucasArts Company Store is eager to help out with some new Indy wear.

Indiana Jones Boxer Shorts


These one of a kind, all-cotton shorts are tastefully decorated with Indy icons, and come with an elastic waistband and faux fly for unisex comfort. Adult sizes M-XXL, $16.95.

LucasArts 20th Anniversary Character Montage Longsleeve


From Elaine to Grim, Indy to Nym - some familiar faces of LucasArts games over the past twenty years come together in this graphic montage grid. Long sleeve shirts in cotton, adult sizes M-XXL.