California - Check out the new game trailer for Indiana Jones and the Emperor's Tomb online at LucasArts. The new trailer is available in 2 sizes (320x240 and 480x360 pixels) as streaming QuickTime mov file. The trailer can't be downloaded, it can only be viewed online.
The new trailer does leave me a bit unsure about the new game, though. The gamely seems to turn more and more into a shooter. The new hand to hand combat options also add a certain brutal element to the game.

Box Art by Drew Struzan


Drew Struzan, award-winning artist in motion picture advertising, recently illustrated the cover for Indiana Jones and the Emperor's Tomb. LucasArts features the new box art and an interview with the artist.
LucasArts.com: What artistic choices did you make to ensure this game cover would be compelling?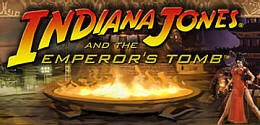 Drew Struzan: I just included what the game promises. The subject matter is rich and full and all drawn from the game itself. I compose the picture and elements in a strong and classical manner to set the scene with the proper emotional tone; that of secure and powerful, rock steady design. The color composition is warm, as is the trademark of so many of the Indy pieces, making it at that magic hour with the setting sun. Of course the reason I was asked to do the piece in the first place is that my style and taste is recognizable as the authentic Indy representation. With me doing it, it says immediately that this product is the real thing.
Read more online at LucasArts.