UK/Cyprus - Do you have "a bad feeling" about Episode 2? Have you been missing "the adventure" for too long? Would it be OK, if the name of it is not Indiana Jones this time? Well, then count down the days till May 18th 2002 for: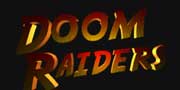 Indiana Jones spoof filmed in Cyprus
A new movie based on the perennially favorite Indiana Jones has being shot on location in Cyprus. The film is made by Backyard Productions, a British group making amateur films since 1993.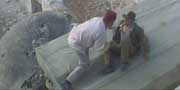 Weeks of filming in August and October 2001 generated more than 60 minutes of raw film material. Over 50 costume pieces have been produced especially for the film. The filming took place in the Phassouri Plantation near Akrotiri, and the plantation was quickly transformed into a tribal village with huts and campfire.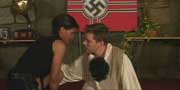 Royal soldier helping the production
The Backyard Productions team got help from fourteen Fijian soldiers currently serving with the Kings Own Royal Border Regiment in Episkopi, who swapped their khaki uniforms for hessian, leaves and plenty of face paint.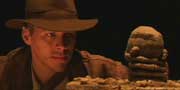 Premiere Set for May 18th
The first public showing will be on Saturday May 18th, at Astra Cinema, Akrotiri Cyprus. With so many Government departments helping the team out including the Cypriot National Guard, the Dept of Education and Culture and Dept of Cypriot Antiquities, it will for sure to be a massive event.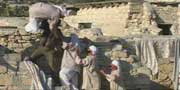 Two Trailers available
The Backyard Production homepage covers a lot of material about the new film. Lots of teaser pictures, movie posters, behind the scenes pictures and two film trailer are available for download.
Also take a look at their other spoof films: Geriatric Park, Batman Returns Forever and The Empire Strike Backyard.